How can we help you?
Our trained team of specialists is here to listen to you, believe you and answer any questions that you might have.
We can also share information and resources that might help you to:
Better understand what happened.
Work out what you would like to do next (if anything).
Support you through difficult times or when you feel like you can't cope.
Find longer-term support, such as counselling or another type of therapy.
How the conversation will go
What we talk about will be completely up to you and you don't have to share any details or information that you don't want to. The conversation will be private and stay between you and the person you're talking to (except in rare cases).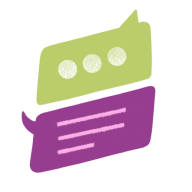 You are not alone
Our specialist operators are here to support you as much as they can.
All of our operators:
Understand how sexual violence, abuse and harassment work.
Will listen to you and believe you.
Are human – you will never be talking to a chatbot or robot.
❗ You can speak anonymously to our operators. They will not be able to tell who you are and you do not have to give them your name or any other personal information.
Are you a professional or someone else trying to support a victim or survivor?
We have information and resources below that can help you to help them.